Carl Gluud – Thats us! Get to know us now!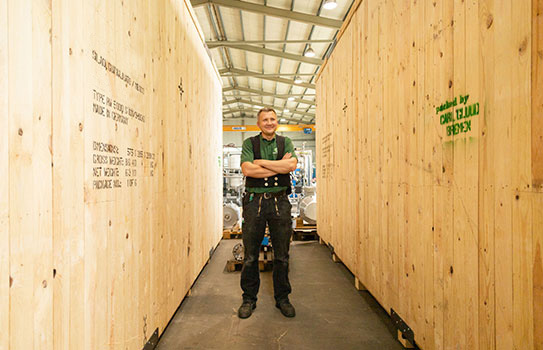 Your strong partner in timber trade, wood processing, pallets and export packaging
Carl Gluud GmbH & Co. KG is an owner-operated family business in the third generation from Bremen. Our work combines the areas of timber trade and timber processing. In addition to the processing industry, our customers also come from the timber and building materials trade as well as the logistics sector.
Our core competences are timber import, timber trade and the production of wooden packaging, wooden pallets, heavy goods boxes and export packaging. You have also come to the right place if you need support in the areas of logistics consulting and order picking for export and import goods.
With passion at work
Get to know the team of Carl Gluud GmbH & Co. from Bremen. Our employees are highly trained. And our daily craft is also a promise to our customers. We offer you comprehensive consulting, a detailed technical concept and reliable implementation of your transport projects.
Contact us now for a no-obligation enquiry about timber trade, timber packaging, export packaging and warehouse & logistics services. Benefit from the Hanseatic virtues of our team: reliability and fairness.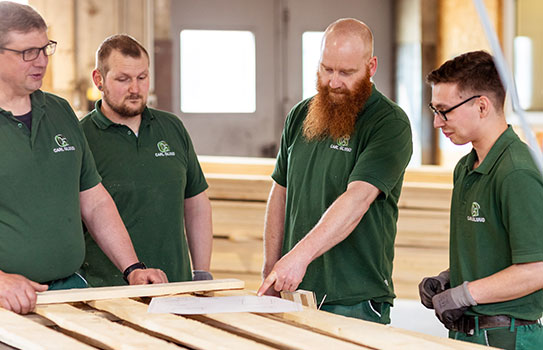 Sustainability & Certification
---
Responsibility for the future
We are aware of our responsibility for the future. Our company therefore relies primarily on green electricity from a major energy provider in Bremen. In addition, we generate the thermal energy we need by burning our lumber. With a regular analysis of our operation by an energy consultant, we have been able to achieve a significant reduction in energy consumption in recent years.
Sustainable vehicle fleet
Currently, we are consistently converting our vehicle fleet to electric motors and generate the electricity for the electric cars from an in-house photovoltaic system. Our declared goal is to require proof of sustainability for external transport (from 2023) and to operate in a CO2-neutral manner by the end of 2023.
Always in view: Sustainability standards
We source quality wood for our work from domestic production as well as from Scandinavia, the Baltic States and Eastern Europe. The wood we use is checked by our employees before processing according to quality and sustainability standards. We commit to the following standards when importing wood:
FSC (Forest Stewardship Council): The FSC is an organisation for safeguarding important environmental and social standards in the forest. Worldwide guidelines ensure that all important interest groups are involved. The seal used represents a trustworthy solution for sustainable forest management. The certificate is awarded annually after an audit by independent third parties.
PEFC (Program For The Endorsement Of Forest Certification Schemes): The increased environmental awareness of companies and private individuals leads to a great demand for sustainable products made of wood. The PEFC represents an independent certification system in this respect. For consumers, the label is a synonym for sustainable forest management according to ecological, economic and social criteria.
We rely on standards
The standard-compliant and precise manufacture of products made of wood plays a very important role for our customers. The global flow of goods requires logistics companies to comply with strict packaging guidelines and thus sets clear specifications for our employees when manufacturing our wood products.
Our customers' transport products must be packed safely and on time and brought to destinations all over the world. To ensure that you can rely on valid standards when working with us, we have had ourselves certified according to the important standards of the logistics industry.
HPE: The HPE packaging guideline of the Bundesverband Holzpackmittel, Paletten, Exportverpackung e. V. (Federal Association of Wood Packaging, Pallets, Export Packaging) defines minimum standards for qualitatively flawless packaging in line with market requirements and is regularly audited. The association's pallet guideline defines the essential criteria for the manufacture and use of wooden pallets. By certifying the respective requirements in accordance with the HPE guidelines, companies can rely on us to implement the logistical specifications precisely.
LBA RegB: In the context of air freight security, Carl Gluud GmbH & Co. KG is approved by the German Federal Aviation Authority as a regulated agent and has the necessary certification (LBA RegB) for air freight shipments. The Air Cargo Security Programme (LFSP) offers logistics companies a completely secure supply chain and compliance with legal security requirements. If you have any questions on this topic, please contact our Air Cargo Security Officer.
IPCC Standard ISPM 15 HAT: This international standard ensures phytosanitary measures for wood packaging material in international trade. The purpose of ISPM is to prevent the import of wood pests into foreign ecosystems. In order to free the wood of possible pests in accordance with ISPM 15, various treatment methods are used. Our company in Bremen uses heat drying (HT) or artificial drying for this purpose. The ISPM 15 marking indicates that the wood in the packaging has been treated correctly according to the standard.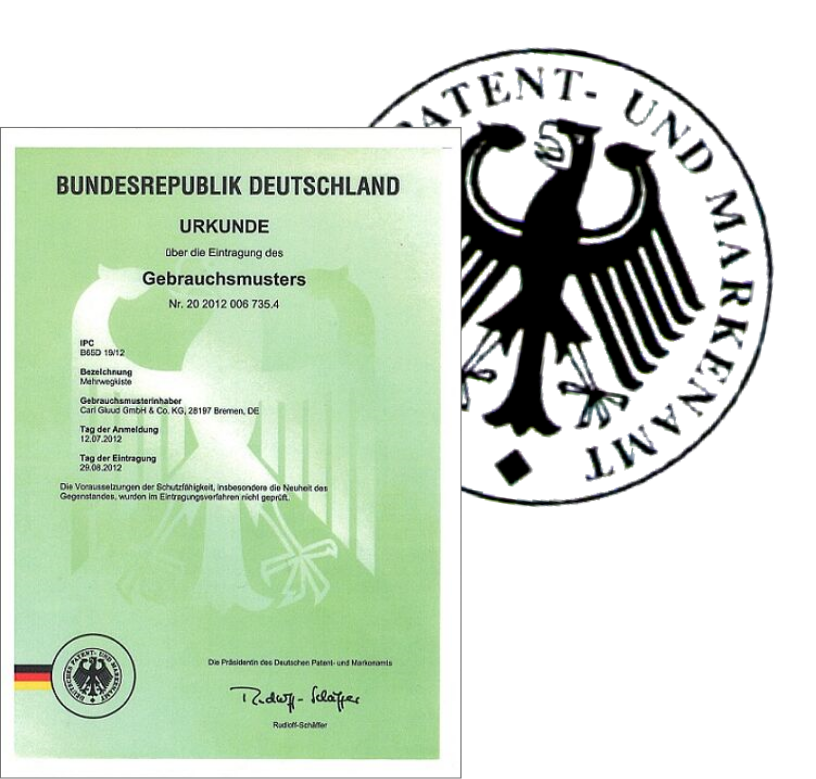 Cooperations & Associations
---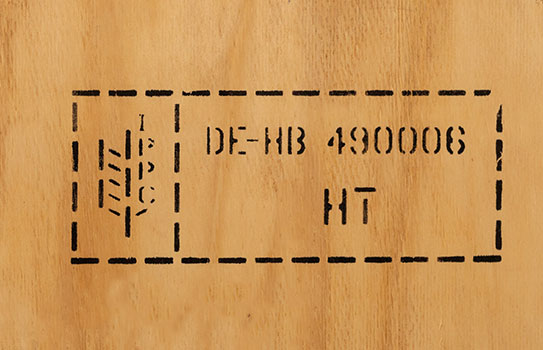 Strong partnerships
We benefit from powerful partnerships and are involved in a wide variety of associations. The aim of Carl Gluud GmbH & Co. KG is to always be involved in current events concerning the wood trade, wood packaging and export packaging and to be well informed. This enables us to react to changes in the market as quickly as possible and to the advantage of our customers from Germany and all over the world.
Bundesverband Holzpackmittel, Paletten, Exportverpackung e. V. (Federal Association of Wood Packaging, Pallets, Export Packaging, HPE): The Bundesverband Holzpackmittel, Paletten, Exportverpackung e. V. has existed for over 150 years. More than 420 mainly owner-managed companies from all sectors of the wood packaging industry are part of the trade association. The members of HPE are suppliers of pallets, packaging materials, cable drums, crates and chip baskets made of wood as well as service providers in the fields of packaging, container stowage and logistics.
European Pallet Association e. V. (EPAL): The EPAL system ensures uniform standards in global transport with the worldwide known wooden Euro pallet manufactured according to DIN-EN 13698. The licences of the European Pallet Association only go to carefully inspected producers and repairers such as Carl Gluud GmbH & Co. KG from Bremen.
Gesamtverband Deutscher Holzhandel e.V. (GD Holz): As a representative industry association, GD Holz bundles the interests of 800 member companies. Through its agile network and expert advice, it ensures competence and knowledge transfer among the participating wood processing companies. GD Holz is the point of contact for a wide range of questions on the subject of wood.
HolzLand purchasing association: The HolzLand purchasing association is one of the largest communities of timber traders throughout Europe. In addition to Carl Gluud GmbH & Co. KG, the timber trade network comprises over 450 specialist timber stores, ranging from pure timber wholesalers for professional customers to timber dealers for end consumers.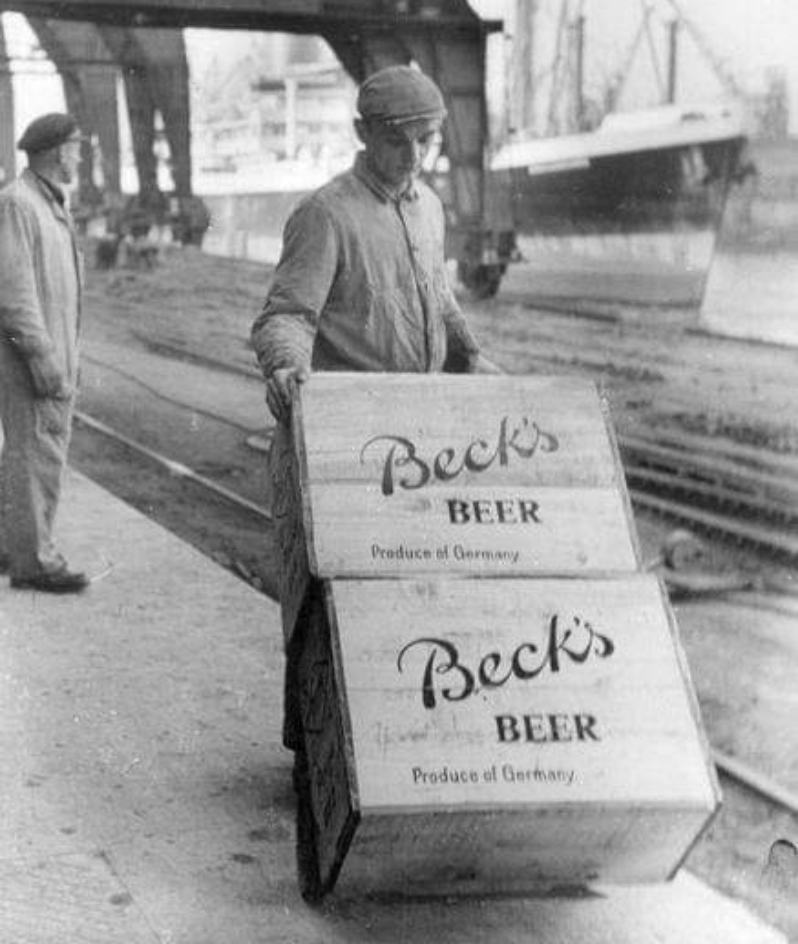 Carl Gluud combines tradition and modernity
Our history stretches back over 140 years and we are pleased to have business relationships with customers from the very beginning that continue to this day. The brothers Heinrich and Carl Gluud founded a crate factory in the Hanseatic city as early as 1878. And the first customer was another traditional company from Bremen: the export brewery Beck & Co. This business relationship still exists today. This illustrates very well the values of our daily work: we stand for a reliable, long-term and trusting partnership with our customers.
Learn more about our eventful history and get to know our Bremen-based company and our wooden products better.
Carl Gluud GmbH & Co. KG has developed into a showcase company in Bremen and the region through reliable and trusting cooperation with numerous customers. We now have more than 65 employees at our locations in northern Germany.
Find out more about the eventful history of our traditional Bremen company in the wood trade and packaging sector and its development in the following chronicle.
Foundation
Foundation of the box factory Gebr. Gluud by the brothers Heinrich and Carl Gluud in Bergstraße 6 in Bremen. The main customer for the wooden crates in the founding years is the Kaiserbrauerei Beck & Co.
Relocation
The company moves to a larger poperty and takes over steam engines and circular saws at Haferkamp 22 in Bremen.
Sole owner
Heinrich Gluud passes away and Carl Gluud becomes the sole owner of the Bremen company.
Name change
The company changes its name to Carl Gluud.
Company transfer
Company owner Carl Gluud transfers all his company shares to his son Ferdinand Gluud.
Relocation
The company moves within Bremen – to a new large factory building at Baustraße 33.
Massive Expansion
The Kaiserbrauerei Beck & Co. joins the company as a limited partner. Due to many orders from the brewery, there is a massive expansion in the field of wooden packaging, which makes a move to Ladestraße necessary. A lease is signed with the City of Bremen for the company premises at Hohentorshafen in Woltmershausen for an indefinite period. The number of employees increases to up to 80.
Passing of Ferdinand Gluud
Ferdinand Gluud passes away. Heinz Rechtern is now the sole shareholder, Beck & Co remains a limited partner.
Destruction of company building
In August a bombing raid destroys all the company buildings.
New partner
Johannes Töller joins the Bremen company as a personally liable partner.
New partner
Hanns-Dieter Töller joins the company.
Company take over
The company takes over the Bremen planing mill Finke und Bünemann.
New Partner
Jens Dörken joins the company.
New Building
Construction of a new administration building
Takeover
Takeover of H+W Holzhandelsgesellschaft
Project packaging
Start of project packaging
New managing director
Jens Dörken becomes shareholder and managing director
Acquisition
Acquisition of the 50,000 square metre company site from the City of Bremen
125th anniversary
Expansion
Acquisition and expansion of the company premises including packaging halls (10,000 square metres)
Foundation
Foundation of CG Industrielogistik GmbH & Co. KG
A modern timber company
Carl Gluud GmbH and Co KG is a traditional and at the same time modern timber trade as well as timber processor in the region of Bremen and the Northwest. The heavy goods boxes, export packaging and pallets made of wood are shipped and dispatched worldwide. The company has also expanded its portfolio to include logistics consulting and order picking for export and import goods of all kinds.
We always have an answer ready
Our press and download area allows our customers and representatives of the press to easily search for previous newspaper reports, information about our company and certificates for our services.
Contact us for further data and facts on the topics of timber trade, wood packaging, export packaging and logistics or certifications. We will be happy to support you with research on the topic of wood.